Top Engineering colleges in Haryana
This article is helpful in finding the list of top engineering colleges in Haryana and status of higher education in the city.
A relatively small state with a very good industrial base, Haryana does well in higher education, especially in Engineering. As per a NAAC report, the period between 1975 and 1985 saw one of the most significant growth periods in the state's education system.
In the last 6 years from 2009-14, the state opened 24 universities that include 1 central, 2 deemed, 16 private and 5 state universities. The private sector contributes 52.6% to the state's higher education sector. Gurgaon has maximum of 9 universities followed by Sonipat 5, Faridabad 4, Rohtak and Hisar with 3 each. Haryana has 144 engineering colleges with an intake capacity of 45,983 seats, which is 7th largest BE intake in the country.
Haryana performs very well in the engineering education sector. Last year in 2014, 1043 candidates qualified JEE (Advance). Further, in Indian Engineering Services (IES) examination, 32 candidates from institutes in Haryana were recommended by the UPSC.
List of engineering colleges in Haryana (In alphabetical order)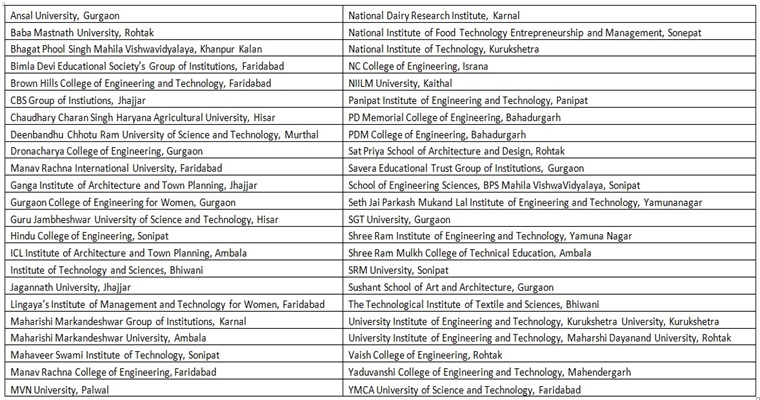 Related Articles: